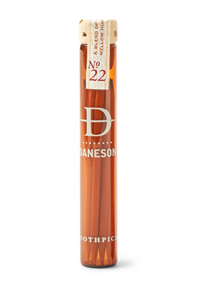 While they may not be on the rocks, Daneson's Naturally Flavored Toothpicks, Bourbon, No. 22 are left in six-year-old Kentucky straight bourbon giving them a warm and smooth taste. Enjoy notes of almond, oak, and leather as you let the toothpick rest in your mouth. All-natural, the toothpicks are crafted using American northern white birch.
Each bottle has a minimum of 12 toothpicks
Flavors are created using authentic extracts and essential oils
Daneson plants 100 trees for each one cut
Peter Smith, Founder, operates on the goal of making simple things beautiful. Most Daneson materials come from American and Canadian suppliers that maintain respect for forests and materials by planting more trees for every harvested tree.